The Department of Plastic Surgery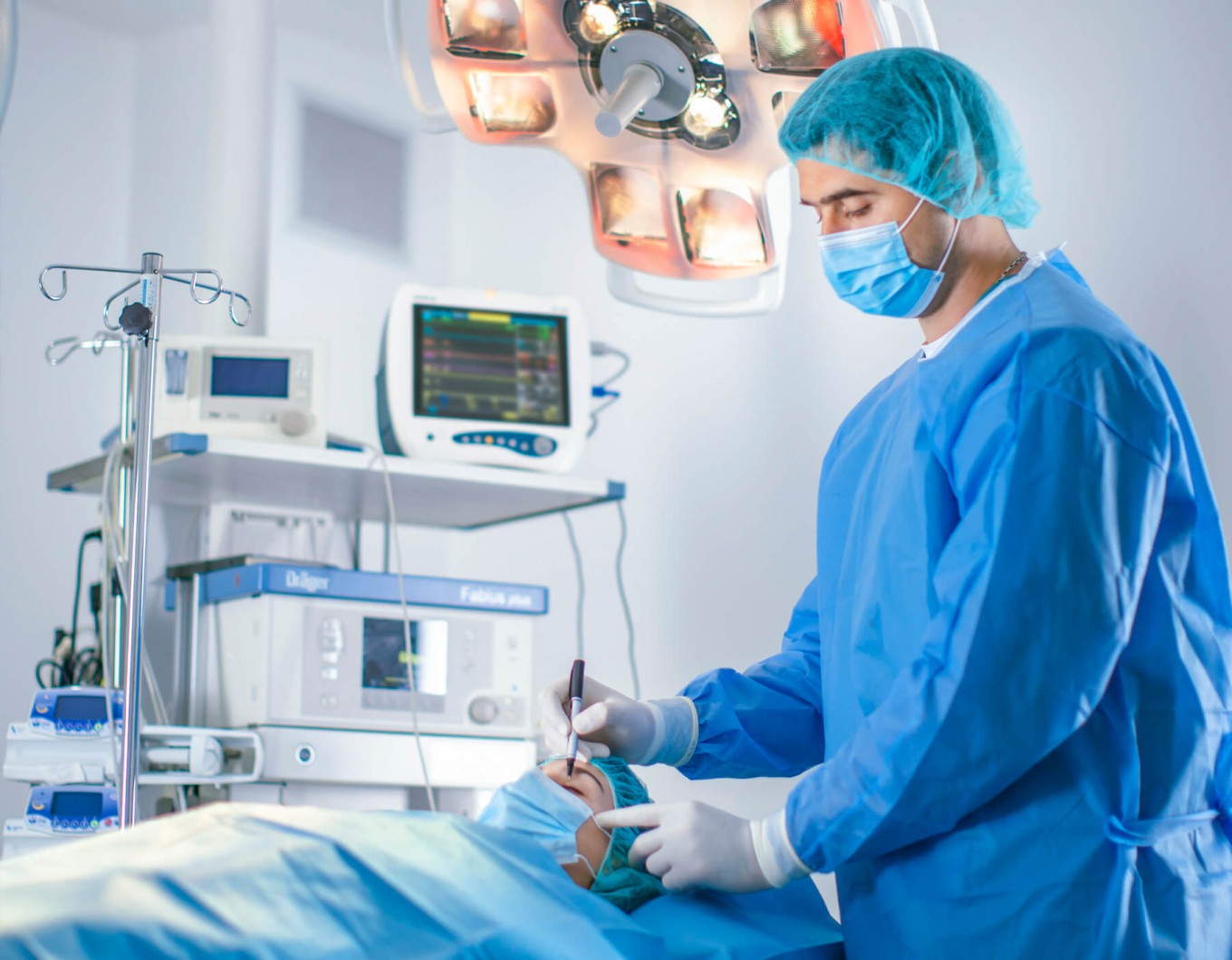 Head of the department - Nodar Brunjadze
Plastic surgery is a very successful and progressive field of modern medicine. It became possible to correct jaw-face, body, skin defects, restore old beauty through these surgeries and boost self-confidence for people. Modern medicine allows to correct facial and body defects through both surgical and therapeutic methods. The Department of Plastic Surgery of Acad. Fridon Todua Medical Center will provide the women and not only the women with appropriate assistance to reach the desirable result.
The department performs the following types of interventions and basic operations:
Blepharoplasty - removal of skin folds and fatty tissues of the upper and lower eyelids;
Nose augmentation - change the shape, improve the shape, treat breathing problems. (During the operation and treatment of a rhinologist is involved in order to resolve the patient's all breathing problems)
Liposuction - abdomen, thighs, knees, legs, chest, buttocks, buttocks, shoulders, back
Mammoplasty - breast augmentation, breast lift, reduction, shape improvement, nipple plastic, fat transplantation, treatment of gynecomastia in men. The problem for a number of women is small breasts, post-lactation ptosis (access to the mammary gland), deterioration of shape, fatty discharge, deformity of the nipple area and / or asymmetry. All these can be corrected through surgical interventions
Abdominoplasty - Improving the shape of the anterior abdominal wall, removing loose and / or stretch-damaged skin folds and fatty tissue
Thigh Lifting - removal of skin folds and fatty tissue from the inside and outside of the thighs
Otoplasty - change the shape of the ears, reduce it, correct the asymmetry, improve the shape, earlobe plastic surgery
Gluteoplasty - enlargement of the buttocks (with your own tissue, fat or implant), removal of the crease, correction of ptosis, improvement of the shape
Thigh plastic surgery - enlargement with implant, fat transplant
Shoulder augmentation - liposuction, removal of excess skin and fat tissue
Chin correction - enlargement with implant, fat transplant
Fat transplantation - in the area of ​​the lips, cheekbones, forehead, nose-lip wrinkles of the breast, buttocks, chin, legs
Bichectomy - removal of cheek fat
Bariatric - (gastric surgery) Postoperative correction of skin, deteriorated body contours (body lifting).
The operations offered to our patient -the desired body shape and size are selected based on 3D photomodeling.
Minor surgical interventions:
Surgical correction of the scar
Removal of lipomas - by surgery or liposuction (removal of a fatty lump)
Treatment of onychocryptosis - resection of ingrown nail fragments with partial laser destruction of the subsequent nail matrix
Treatment of xanthelasmas - laser and surgical removal of fatty areas around the eyelids
Earlobe plastic surgery - surgical correction of a torn or damaged earlobe
Piercing on different areas of the body
One of the most common problems for many people is facial skin wrinkles, the presence of fine wrinkles is observed at almost all ages (mostly above 25). However, with age it becomes more and more annoying and noticeable, so as soon as wrinkles appear it is desirable to perform a number of procedures to prevent skin deep wrinkle deformation.
The easiest way to correct superficial and simple wrinkles is to inject botulinum toxin (Botox, Dysport), which will solve the existing problem for 6-8 months, making the patient's face, features and smile much more open and harmonious.
In case of deep wrinkles, it is possible to use fillers or fat transplant procedures that give an ideal result independently or in combination with botulinum toxin and significantly improve the patient's mood.
Injection procedures:
Botox injection - correction of wrinkles, treatment of excessive sweating and migraine.
Filler (filler) injection - lip augmentation, reshaping, filling of nasolabial and forehead wrinkles, deformed / asymmetrical areas of the cheekbones
Injectable treatment of keloid or hypertrophic scar