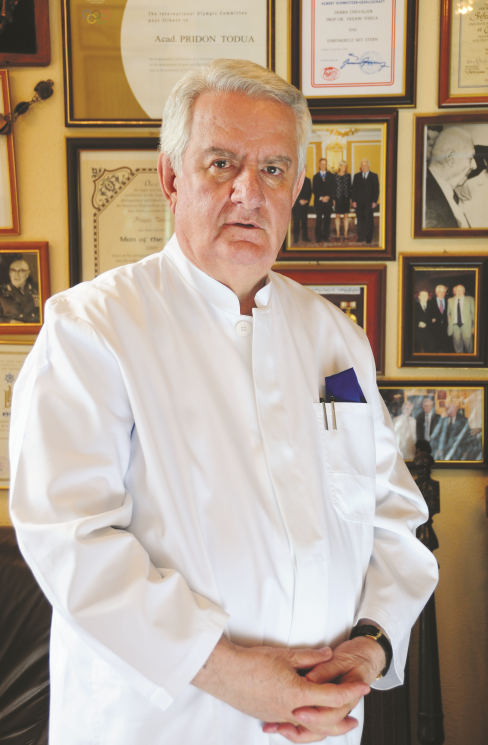 Academician Fridon Todua
Founder of the Research Institute of Clinical Medicine (after the death of Academician Fridon Todua in 2017 the Institute was renamed as Fridon Todua Medical Center);
Famous doctor, scientist, one of the most important figures in the history of Georgian medicine;
Public figure, patriot, philanthropist, reviver of the Georgian School of Radiology (1990s) and educator of several generations of physicians and scientists;
The founder of the Georgian Association of Radiologists and its President for -1997-2017;
First Vice-President of the Georgian National Academy of Science- 2005-2015;
Vice-Speaker of the Parliament of Georgia- 2008-2012;
. Laureate of State Prizes of the Soviet Union and Georgia in Science, two-time Knight of the Order of Merit, owner of the Order of Vakhtang Gorgasali, the Golden Order of St. George.
Fridon Todua began his scientific career in 1968 at the A. A. Vishnevsky Institute of Surgery in Moscow, where he began as an ordinary scientific researcher and later, he became the head of the first and most important strategic department in the former Soviet Union medicine - Computed Tomography and Ultrasound Diagnostics.
He always was the initiator of new scientific and technical advances in medicine, the initiator of new diagnostic methods of radiological research. His works, reports and speeches were distinguished by their fundamental and innovated ideas, which made him a great authority all over the world.
Fridon Todua's first scientific research was dedicated to the issues of radiological diagnosis and treatment of mediastinal tumors and cysts, the results of which were formulated in 1973 in his Ph.D. dissertation.
In the early 80's, F. Todua was sent to Germany and Austria to get acquainted with advanced scientific and technical innovations and the newest technologies in medicine. He held a full course of specialization to master the method of computed tomography in the leading clinics of Europe and was the first to lay the foundation for the development of computed tomography in the former Soviet Union. He revealed himself as a talented organizer of the formation of the department of Computed Tomography and training its staff.
Based on extensive experimental and clinical material, he was one of the first to develop new methods for studying bronchial circulation, which was later successfully reflected into the practice of many clinics around the world. The results became the basis for Fridon Todua's doctoral dissertation in 1984, which was dedicated to the diagnosis and treatment of bronchial circulatory disorders in chronic non-specific pulmonary diseases complicated by hemorrhage.
In 1988 he was awarded the title of professor. In the same year he was awarded the State Prize of the USSR for the development and implementation of new methods of diagnosis and treatment of pancreatitis and its complications. In 1990 a group of young scientists under F. Todua's guidance implemented organ-sparing operations in practice and as a result of this innovation the group was awarded the Union Prize in Surgery.
Further his scientific activity was mainly focused on the research of introducing non-invasive methods of treatment, under his leadership complex of ideas of computed tomography and ultrasound examinations were developed dedicated to the diagnosis of diseases of various systems and organs. The role and scale of computed tomography in the differential diagnosis of diseases of the brain and spine, chest, mediastinum, abdomen, retroperitoneal space and small pelvic organs have been fundamentally redefined in a new way.
Computed tomographic features of various diseases and diagnostic difficulties characteristic for this method were brought and specified in the system based on large clinical material. Constant search and pursuit of innovation allowed Fridon Todua to implement in practical medicine and to develop a new original direction - interventional radiology, the first in the former Soviet Union involving the combination of X-ray diagnostics and therapeutic interventions with computed tomography control. It can be boldly said that he is a pioneer in this field. Researcher's talent and clinician's innovation-seeking strive has undoubtedly given remarkable results - numerous studies by professor Fridon Todua have led to the development of a new promising areas in radiology and surgery.
He was the first to develop a so-called "bloodless" manipulation for the treatment of various diseases and the first to introduce organ-sparing operations guided with computed tomography and ultrasound control, which allows to avoid complicated surgical interventions. The methods developed by him have been widely introduced in many clinics around the world.
The doctor, who by that time was the author of many honorary titles and more than 300 scientific works, decided to return to his homeland in 1990 - at a time when his country was in the most difficult situation and qualified personnel was flooding from Georgia and mainly working abroad, nevertheless he arrived to dedicate his knowledge and experience for the welfare of a new life of independent Georgia and for the advancement of his country.
A fundamentally new phase began in Fridon Todua's career after returning to his homeland, where he established a completely new type of medical institution- the Research Institute of Clinical Medicine (after the death of Academician Fridon Todua in 2017, the Institute was renamed after him). Today this institution – Acad. Fridon Todua Medical Center- Scientific Research Institute of Clinical Medicine, is unique not only for its ultra-modern equipment and professional staff, but also first of all for its original concept reflected in the fundamentally new approach to the organization of the medical institution. The Institute has grown significantly in recent years, it has become a hotbed of innovations. New technologies, modern methods of research and treatment are constantly developed and introduced in clinical practice. Many innovations in our country were first introduced in this Institute by Mr. Todua's initiative.
Academician Fridon Todua is the author of more than 650 scientific papers, 12 monographs – among them 2 are published abroad, he has author rights and patent certificates for 15 invention, he has been a scientific supervisor of more than 85 PhD dissertations, the participant of more than 200 international scientific forums. His works rightly deserve the highest praise of world-famous scientists - radiologists, oncologists, surgeons.
Professor Todua was sure that modern medicine is completely unthinkable without modern technical equipment, but at the same time he believed that the most important was well trained qualified personnel. This was the first thing he did when he returned to Georgia and today his students are leading specialists not only in Georgia, but also abroad and they are the best in field of their activity.
In 1998-2017 he was a Full Professor of the Department of Medical Radiology and Endoscopy at Ivane Javakhishvili Tbilisi State University, in 1998-2017 -the director of the residency training program of the Ministry of Health of Georgia, specialty "Medical Radiology and Radiology".
At the Institute of Clinical Medicine under the leadership of Professor Todua, training processes have been going on for years. The Institute is the university clinic and on its base are functioning: Department of Medical Radiology and Endoscopy of Iv. Javakhishvili Tbilisi State University, Department of Medical Radiology of Tbilisi State Medical University. There is a residency program in Radiology and a postgraduate scientific course for PhD degree, a training center for Computed Tomography and Magnetic Resonance Imaging.
A prominent physician, administrator and scientist, Mr. Todua at the same time was active in public life. In 2008-2012 he was elected as the majoritarian MP of Zugdidi and many good deeds in this region were done under his leadership.
His activity as the first vice-president of the Georgian National Academy is noteworthy, he played a great role in maintaining this institution and in the development of academic sciences in Georgia and not only in Georgia. He was elected as an Academician of the European Academy of Sciences and Arts, Honorary Doctor of the University of Graz (Austria), Member of the Russian Academy of Medical and Technical Sciences, received the title of Honorary Doctor of Baku State University. Fridon Todua has received different rewords: He is A. A. Vishnevsky Prize Winner, State Prizes winner of the USSR and Georgia, has been awarded the Zaza Panaskerteli-Tsitsishvili Prize of the Georgian National Academy of Sciences and the Zaza Panaskerteli-Tsitsishvili Grand Gold Medal, Acad. G. Mukhadze Medal, Iv. Javakhishvili Gold Medal, Medal of Honor of Acad. Ferdinand Tavadze, etc.
Georgia appreciated the merits of a doctor and a scientist. His work has been honored with numerous national awards, including the Order of Merit, the Order of Vakhtang Gorgasali and the Presidential Order of Excellence. Fridon Todua is an honorary citizen of Tbilisi.
In 2014 he was awarded the highest award of the Church of Georgia, the Golden Order of St. George- "for his great merits for the development of medicine in Georgia."
Fridon Todua is recognized primarily by the world medical community as a scientist who introduced many innovations and was the first in medical practice to use progressive methods of treating various diseases.
Academician Fridon Todua was an internationally acclaimed man, and in 1999 he along with Henry Kissinger, was awarded the European Order of Merit for his Contribution to Constructing United Europe; he was recognized by the American Biographical Institute as "A Man of the Year" in 2003, 2008 and 2011; he was awarded the "Cross of Gratitude" by the French Government for "great charity and devotion to the work". He has received "Order of Andrew the First-Called".
Academician Fridon Todua was a person who has a great merit before the Georgian medicine which has great traditions of X-ray and radiology school. He raised this field of science to a new, modern stage of development and created important fundamental scientific works.
Many generations of doctors and scientists has grown up under his leadership., There is probably no more honorable and worthy aim for a scientist than caring for the health of his own nation and developing its intellectual potential - he has served this difficult and responsible task with great devotion!