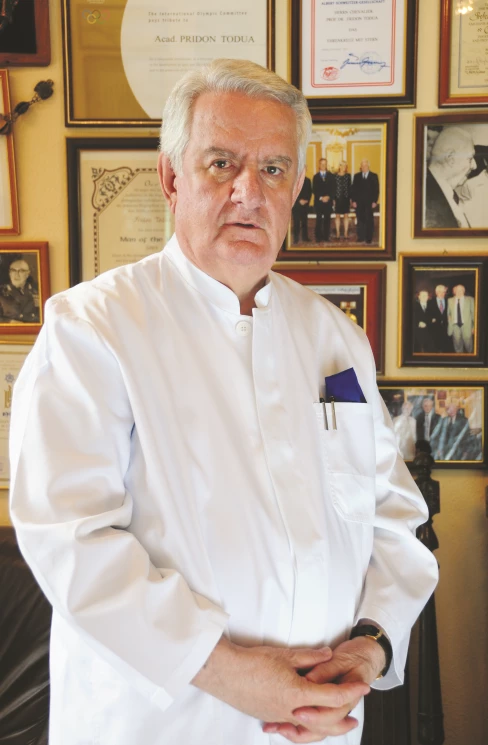 Academician Fridon Todua
The founder of the scientific research Institute of Clinical Medicine (the Institute was named after academician Pridon Todua's death in 2017)
Famous physician, one of the greatest figures in the history of Georgian medicine.
Public figure, patriot, charity provider, reviver of the Georgian radiologist school in the 1990s, mentor of several generations of Georgian doctors and scientists, founder of the Georgian radiologist school.
The president of the Georgian Association of Radiologists.
The first vice-president of the Georgian National Academy of Sciences in 2005-2015.
The deputy speaker of the parliament of Georgia in 2008-2012.
The laureate of state awards in the USSR and Georgia, twice a recipient of the Order of Honor, received the Vakhtang Gorgasali Order, St. George's Victory Order.
Pridon Todua started his scientific career in 1968, in the Vishnevsky Surgery Institute in Moscow, where he worked his way from an ordinary research worker to the head of a very important strategic department founded by him for the first time in the Soviet Union - the department of computed tomography and ultrasound diagnostics.
He always advocated the implementation of new scientific and technical achievements, and new methods of radiology examination in medicine. His works, scientific reports, and presentations were always distinguished by fundamental approach and novelty, which allowed him to gain authority in the world.
The first scientific works of Pridon Todua were dedicated to the issues of radiological diagnostics and treatment of mediastinum cancer and cysts, whose results were summarized by him in the Ph.D. thesis at 1973.
In the beginning of the 1980s, in the conditions of sharp acceleration of scientific progress and introduction of new technology to medicine, Pridon Todua was sent on a scientific trip to Germany and Austria. He completed the full course of specialization to master a computed tomography method in the leading clinics of Europe, and he was a pioneer of CT technology in the former Soviet Union. He showed brilliant managerial skills in establishing the CT department and personnel training.
Based on vast amount of experimental and clinical materials, Pridon Todua was one of the first scientists, who developed new methods for studying bronchial blood that was later successfully implemented in the practice of many clinics throughout the world.
Obtained results formed the basis of the doctoral thesis of Pridon Todua in 1984, which was dedicated to the diagnostics and treatment of bronchial blood circulation disturbances during chronic unspecified diseases of lungs, complicated by bleeding.
In 1988 he was awarded a professor title. In the same year, for the development and practical implementation of new diagnostic and treatment methods of pancreatitis and its complications, he was awarded a Soviet State Prize, and in 1990, the group of young scientists under the leadership of P. Todua was awarded a Soviet Prize in surgery, for the practical implementation of organ-preserving surgeries.
His further scientific activities were mainly focused on the implementation of non-invasive research methods. The entire set of computed tomography and ultrasound researches were developed under his leadership, which was intended for diagnostics of various systems and organs. The role and scope of use of CT were fundamentally rethought in the differential diagnostics of diseases of the brain and backbone, chest, mediastinum, abdominal cavity, retroperitoneal area, and organs of the small pelvis.
Based on extensive clinical materials, CT characteristics of various diseases were systematized and specified, as well as diagnostic difficulties, characteristic for this method. Permanent efforts of research and striving for novelty allowed Pridon Todua as one of the first innovators in the former Soviet Union to implement into practical medicine and develop a new original field - interventional radiology, which implied a combination of X-ray diagnostic and therapy interventions under the control of CT. It is no exaggeration to say that he is a pioneer in this field. A combination of a researcher's talent and a clinician always seeking new methods, yielded excellent result - numerous researches conducted by professor Pridon Todua laid the foundation for the development of a new promising field of radiology and surgery.
He was the first who developed so-called "bloodless" manipulations for the treatment of various diseases and implemented organ-preserving surgeries under CT and ultrasound control, which allowed to avoid complex surgical invasions. The methods developed by him, were widely adopted in many clinics throughout the world.
In 1990, the physician, who, at that time, had many awards and more than 300 scientific papers, decided to return to his homeland, when the country was in a very difficult situation. While qualified and talented persons were fleeing Georgia, Pridon Todua returned to make his contribution to the medicine of independent Georgia, and use his knowledge and experience as a tool for the progress of his motherland.
Entirely new period in the career of Mr. Pridon started after his return to Georgia, where he established a medical institution of a completely new type - the scientific research Institute of Clinical Medicine (the Institute was named after academician Pridon Todua after his death in 2017).
Today this institution - Pridon Todua Medical Center - scientific research Institute of Clinical Medicine is unique not only by its advanced equipment and professional personnel but first of all by its original concept, which implies a principally new approach of organizing a medical institution. In recent years, the institute grew significantly, it became a center of innovations. New technological ways and advanced treatment methods are constantly developed and implemented in the clinical practice in this institution. Many innovations in our country were implemented exactly by this initiative of Mr. Pridon in this center.
The academician Pridon Todua is an author of more than 650 scientific works, 12 monographs, including 2 monographs published abroad, he received 5 inventor's certificates and 15 patent certificates for inventions, he was a scientific supervisor for more than 85 Ph.D. and doctoral dissertations, participant of more than 200 international scientific forums. His works rightly earned the highest estimation from well-known scientists in the world - radiologists, oncologists, surgeons.
Mr. Pridon believed that up-to-date medicine is impossible without advanced equipment but thought that even more important is to have highly qualified personnel. It was his first concern after the return to Georgia and today his students are leading specialists in the field not only in Georgia, but in many foreign countries, best in their specialties.
In 1998-2017 he was a full professor at the Ivane Javakhishvili State University's Radiology and Endoscopy Chair. In 1998-2017 he was a director of a training program of the Ministry of Health of Georgia residency, specialty - Medical Radiology and X-ray Examination.
In the Institute of Clinical Medicine, Mr. Pridon for years was heading educational processes. Currently, the following entities are functioning on its base: Ivane Javakhishvili State University's Department of Medical Radiology and Endoscopy. Medical Radiology Department of the Tbilisi State Medical University. A residency program in radiology is functioning, as well as a doctoral program, and a training center for computed tomography and magnetic resonance imaging.
Along with the activities of physician, administrator and scientist, Mr. Pridon was renowned public figure. In 2008-2012 he was a parliament deputy from Zugdidi constituency and did many good deeds in this region.