Laboratory of Clinical Diagnostics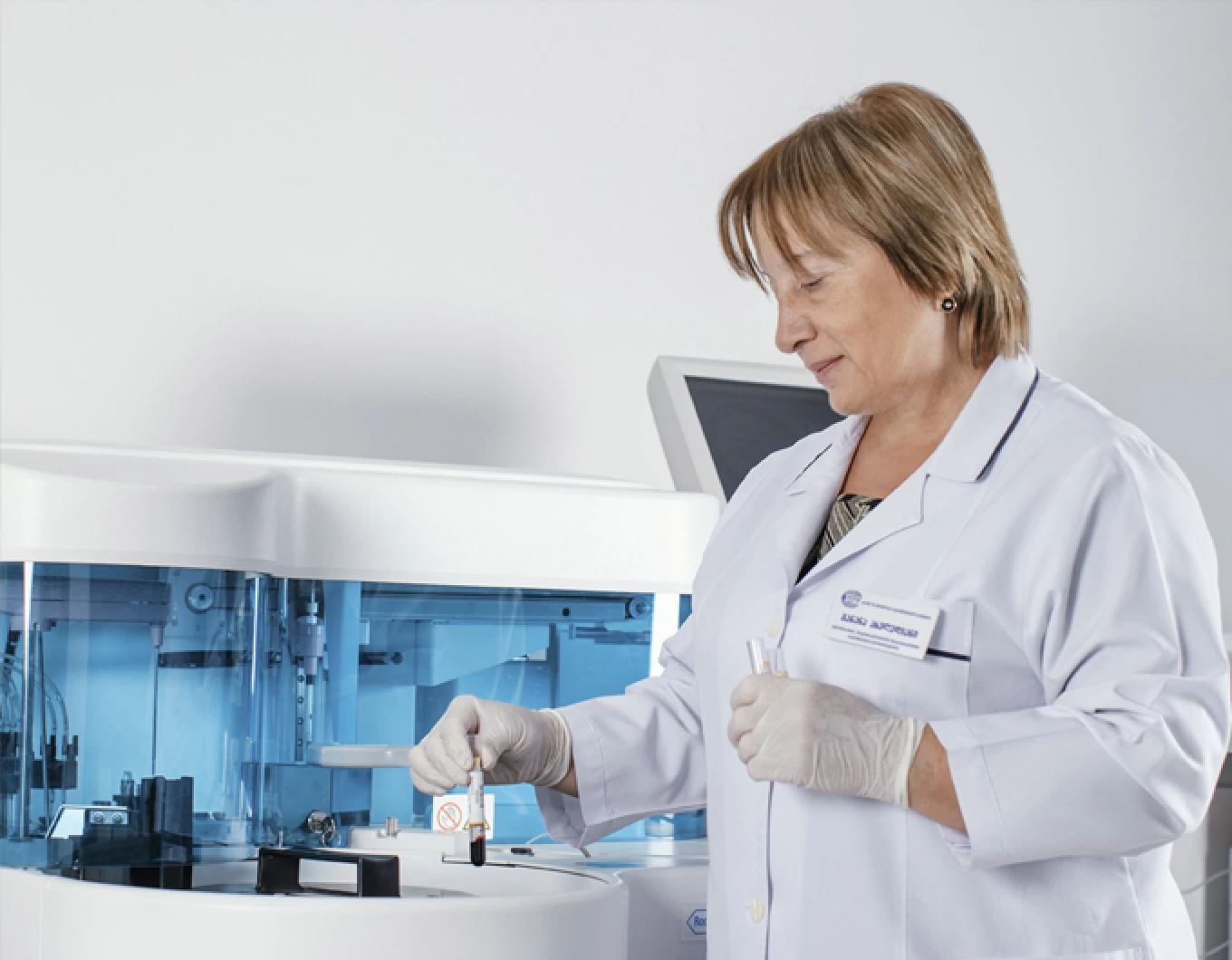 Head of the Department - Manana Akhvlediani
The Clinical Diagnostics Laboratory conducts: biochemical, hematological, blood clotting system study, multimodal analysis of urine, determination of biological fluid composition by biochemical and polarization methods.
The Laboratory of Clinical Diagnostics conducts:
Biochemical investigations - metabolism of enzymes, carbohydrates, proteins and lipids, homocysteine, ammonia, antioxidants are defined on automatic analyzers COBAS c 311 and COBAS INTEGRA 400 PLUS (ROCHE DIAGNOSTICS).
Hematological examinations – are done on hematological analyzer of the latest generation (CBC + DIFF) SYSMEX XN1500 and SYSMEX XT4000i, that have no analogues in the region. Multiple modules are combined in one system - counter, blood smear staining and cell visualization. New indicators in the diagnosis of the inflammatory process. Classification of anomalous cells. Counts thrombocytes with maximum accuracy (impedance, fluorescence). ESR is defined by Westergren's method VACUETTE (GREINER BIO-ONE).
Study of the blood clotting system is carried out on coagulation analyzers STA COMPACT MAX 3 and STA COMPACT (DIAGNOSTICA STAGO). Simple and clever combination of chromogenic, clotting and immunological methods of examination of blood clotting parameters allows us to control thrombophilia, anticoagulant action, antiphospholipid syndrome, hemophilia, Willebrand disease, Dick syndrome, monitoring of surgical and oncology patients.
Multivariate analysis of urine - SYSMEX UF3500, UF4000, UD10 –Physical and chemical properties of urine, simultaneous detection of trace elements, salt crystals, bacteria (gram positive, negative) and yeast cells.
Determination of the composition of biological fluids by biochemical and polarization methods (cerebrospinal fluid, pleural and synovial fluid, etc.)
Scientific direction:
To discover the information of the latest laboratory technologies for the diagnosis and treatment of cardiovascular, central nervous system and digestive tract, oncological pathologies.
Participation in the International External Quality Control System INSTAND (Germany)
TSMU Residential and Professional Rehabilitation Program in "Laboratory Medicine" is conducted on the basis of the laboratory.